What Our Clients Say…

Highly Recommend! Great Owner!
We were so glad to have found Wes with Ford 45 Cane Corsos. We had done alot of research and were looking for a breeder to bring home a Cane Corso of our own. 
Wes was great to work with from day one and was always available to answer any questions. You can tell he really cares for the breed and his Corsos. We were able to visit the the puppies around 5 weeks and picked out our girl! Wes was so helpful with the whole process and made us feel like part of the family. Just seeing the care he has for his own Corsos reassured us we were working with the right breeder. 
If you're looking for a working breed and a family companion we highly recommend Wes and Ford 45 Cane Corso! 
Dane Miller & Family - IA.
Very Knowledgeable! Great Reputation!
When we decided we wanted to purchase a dog for our family, we had a lot of very specific criteria and expectations. We had owned dogs in the past, but never a Cane Corso. We researched the breed and decided that a Cane Corso would be a good fit for our family.
After deciding that we wanted to focus our search strictly on a Cane Corso, we began researching breeders. We were looking for specific look and temperament. Although there were many breeders located closer to our residence, we choose Ford 45s Cane Corso for a few different reasons.
The main reason we felt comfortable choosing Ford 45s kennels for our Cane Corso was the research and knowledge that Wes was able to provide about his dogs and the breed in general. We also felt like the Wes really was looking out for the best interest of his pups, and felt like he wanted to make sure we would be a good fit before allowing us to choose one of his pups.
Another major factor that lead us to purchase a pup from Ford 45s Kennels is Wes allowed us time to meet his dogs in person. Wes was very open to communicate about his dogs and allowed us to bring our children to meet the Sire and Dame before our pup was born. This made us feel very comfortable throughout the whole purchasing experience.
Wes keep us updated the entire process and let us know as soon as the litter was born. It was an exciting process. After our pup was born, Wes sent pictures and updates on size and growth process. Wes allowed us to come meet the pups before we would choose the pup we thought would have the best temperament for our family.
When it was time to pick up our pup, Wes provided detailed vet records and certifications.
Cato is a wonderful addition to our family and we couldn't ask for a better dog. He is everything a Cane Corso should be. He is loyal and a guardian for our daughters.
We are grateful to Wes and his family for providing us with such a well-balanced and loyal Cane Corso. He truly is the perfect addition to our family and everything we hoped he would be.
We love that we have a relationship with Wes and his family. We love that we can share updates and Wes is always available for any questions and concerns we may have.
It shows that Wes and his Family truly have a love for his dog and the breed. If and when we decide to choose another dog, we will go straight to Ford 45s Cane Corsos.
Jacob Wyatt & Family - KS.
The BEST breeder with the BEST dogs!
When it was time to find a reputable breeder for the Cane Corso we always dreamed of we quickly discovered that finding someone who truly cared about the breed over the business was hard to find! That was until we found Wes with Ford 45! After our application was approved we were invited to see the adult Corsos and immediately realized we were in the right place! We left that day so excited and with all of our questions answered! Wes's love for the breed is very apparent through our female puppy! She is now 19 weeks old and the most beautiful and intelligent dog I've ever had or been around! If I can convince my husband, we will be getting another Corso from Ford 45!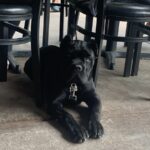 Courtney Woodruff
Great Dogs from a Great guy
We have two Corsos from Ford 45(about 2.5 years apart) and have been equally as impressed with each one . Wes and his family take pride in the breed and genuinely care about them, their breeding practices and the homes they go to. You won't find a better breeder or a better dog.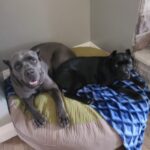 Kaylie Ann Harden
We love our Cane Corso
We got our Can Corso puppy from Wes. He is an amazing and beautiful dog. He is stunning and majestic, his coat is super glossy and soft, he is very tall, muscular and athletic and his facial features and structure is very beautiful. His intelligence, personality and disposition make him a great dog to have around little kids and although cautious at first and after approval from me- he loves everyone he meets. He is funny and sweet and sensitive and has a great energy that makes everyone happy who meets him- including total strangers. Little kids run right up to him who he doesn't know and he is sweet and gentle. He is a great dog and is obedient without being trained. He listens to us and obeys and we made no effort to train him because he is so loving and wants to please his owners. He stays right by me and he is very protective and very aware of his surroundings. This dog is on another level and he is super intelligent and loving.
Debbie Schmidt
All around great!
I've been waiting to write a review since we've only had our pup for 8 weeks but I can't wait any longer!
First we found Fords45 through an internet search for the breed. I interviewed with a few breeders before Wes. Also, before reaching out to him we did our research on this breed. Wes was upfront and honest about everything. He really knew what he was talking about and shared anything and everything about the dogs. We decided to move forward with purchasing a pup from them. He gave us the option to come down to the farm to pick a pup in person. Due to the drive we decided to pick from video and photo. Between picking and our pickup date. Wes sent pictures and answered all my questions.
The day came to get our pup. We went to the farm and got to meet all of his dogs. We got to see where they were kept. Again, upfront and honest the whole time. We met his family even. It was such a great experience for us to see all of this in person.
We've had our pup for eight weeks now. Wes still keeps in touch with us. Our pup is absolutely perfect. Wes really did a great job with this litter. He is SO smart and impresses everyone he meets. He really just fits right in with us. Eager to learn and even more eager to please. I can't wait to watch him grown and see the dog he will become. We hope to be adding another Ford45 Cane Corso in the next year or two.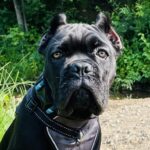 Liz Cote
---
Leave Us A Review!